Discover Geoscience has recently completed a prospectivity study and well data package over the Timor-Leste Offshore Area.  The study and well data package project was completed with project partner Searcher and Timor-Leste's Autoridade Nacional do Petróleo e Minerais (ANPM).  The study reviews the hydrocarbon prospectivity of the region and was completed to coincide with Timor-Leste's second onshore/offshore licensing round which is currently underway.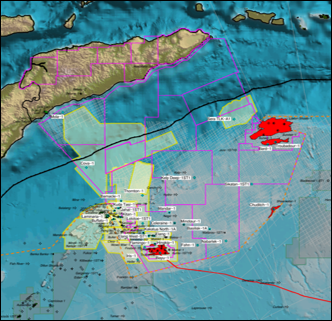 The Prospectivity Study is a comprehensive regional play-based evaluation of the offshore Timor-Leste bid blocks based on the interpretation of Searcher's Openfile Seismic Project.  The study utilizes a multidisciplinary approach  to evaluate new and proven plays in the area. The study assesses Permian to Cretaceous plays in the area and includes an extensive review of the under-explored Triassic plays. Deliverables from the study  include time and depth maps for key regional surfaces, paleogeographic maps, source maturity maps (calibrated with
1D models), common risk segment maps, well summaries and play identification. Data is supplied as a GIS database, a digital report and an updated seismic interpretation project.
A conditioned well data package is also available to complement the prospectivity study. This well data package contains 30 key wells from across the area and includes digitized and conditioned digital well logs which have been de-spiked, merged and spliced, conditioned supporting information (e.g. deviations, checkshots, formation tops), and composite logs.