At Discover Geoscience our multi-disciplinary team of globally experienced Geologists and Geophysicists combine their skills and expertise to produce:
» Tailored studies for our private clients
» Multi-Client reports covering oil and gas markets in different basins and countries
» Prospect Evaluations
» Gazettal Reviews
» Farmin and Farmout reports
» Post Well Analysis
» Any bespoke study specifically designed by you and for you
Competent Persons Report (CPR)
» A CPR for inclusion in the prospectus of companies required for IPO or other stock exchange transaction
» We will provide a responsible, unbiased and independent opinion on the technical and commercial aspects of the company
Reports include:
» Reserve and Resource Assessment and their classification
» Technical risk and uncertainty
All to the standards by each listing authority.
Our worldwide expertise allows us to develop bespoke solutions for exploration to development studies.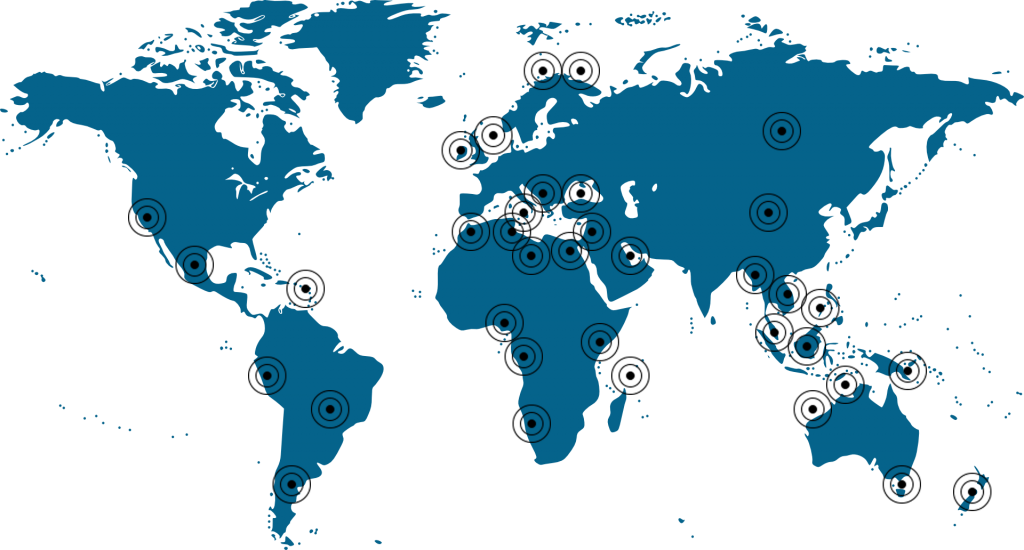 Deliverables can be made available in GIS format.
2019 Offshore acreage bidding round
The 2019 offshore acreage release bidding round closed in early March 2020. Discover Geoscience undertook several gazettal block studies for various clients over the course of the bidding round. The studies were tailored to the specific needs of each client and varied from basin wide to targeted block studies. Concept and lead inventories were compiled, along with play fairway maps, palaeogeographic maps, seismic facies analysis, interpretation of key horizons, volumetrics, quantitative interpretation studies, well post-mortem analysis, and well log conditioning. Some example results are shown below.
Read More...
Discover Geoscience looks forward to the next bidding round and to helping our clients once again with their bids. Contact us for further information on how we can help you with your current workload, upcoming bidding rounds and gazettals, exclusive evaluations and studies and data management needs.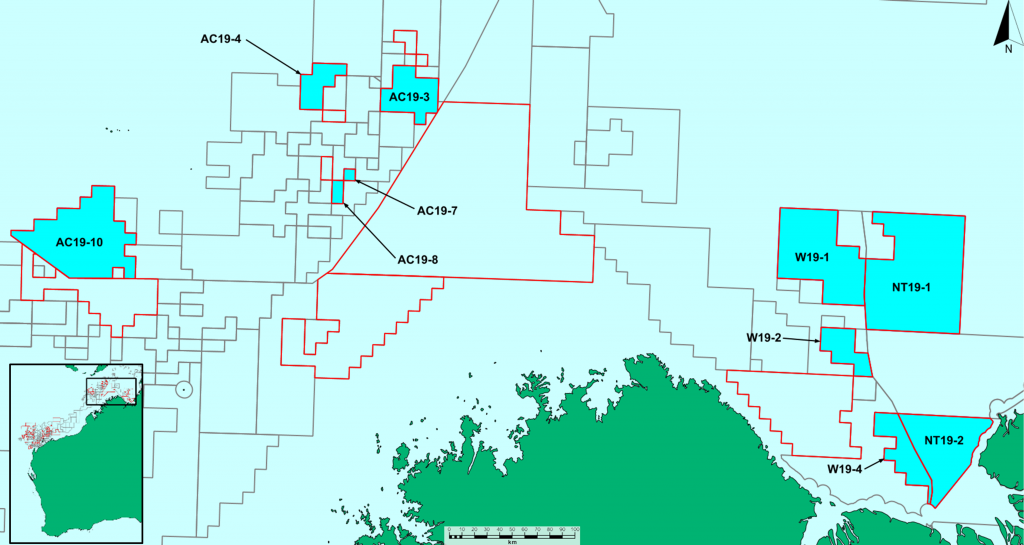 Western Australian, Northern Territory and Ashmore Cartier offshore acreage release blocks (red polygons) map showing those blocks that have received bids (blue filled polygons).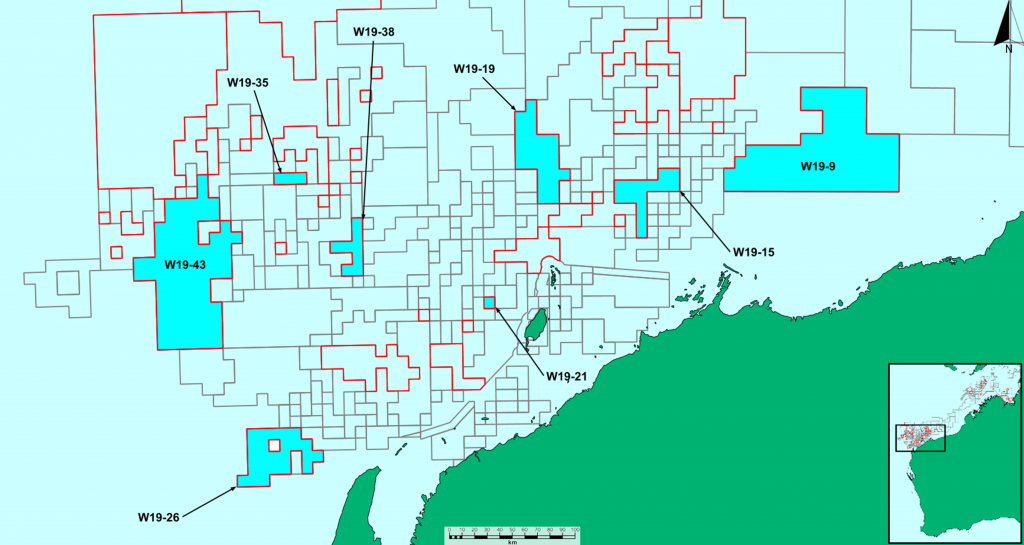 Western Australian offshore acreage release blocks (red polygons) map showing those blocks that have received bids (blue filled polygons).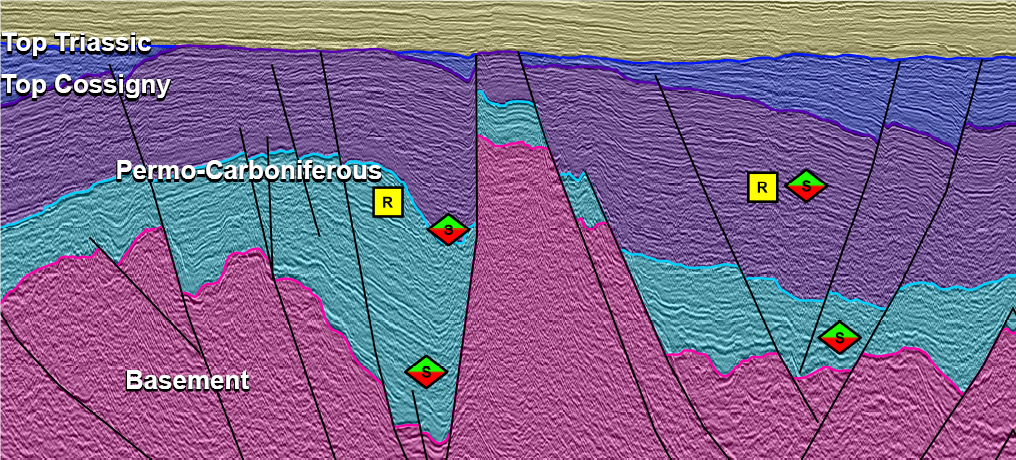 An example geosection generated through one of the offshore acreage release blocks.
An example depth map interpreted at Base Oxfordian (JO) level across the W19-8 offshore acreage release block. Mapping was undertaken at block level and also at lead level.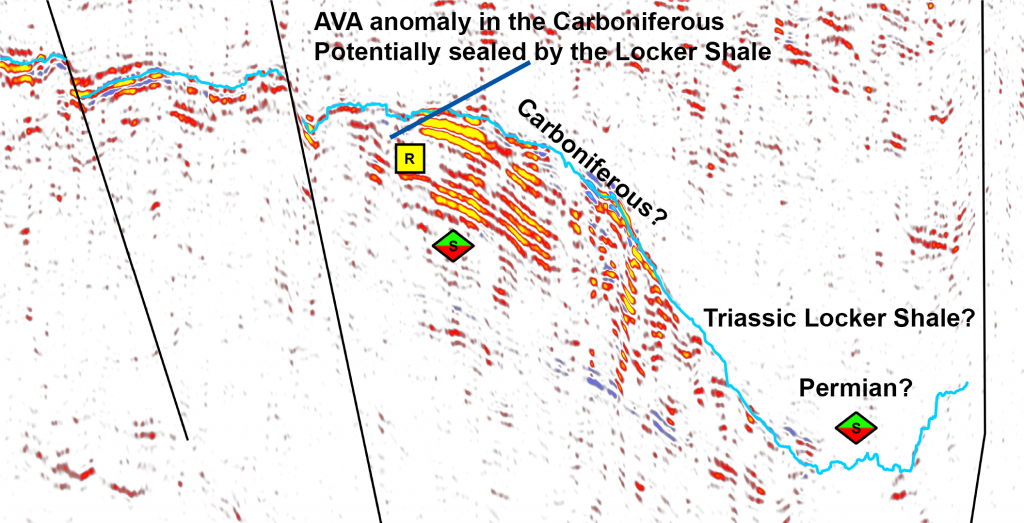 AVO attribute analysis forms a key part of gazettal block evaluations. Shown here is an example AVA anomaly in Carboniferous sediments potentially sealed by the Locker Shale.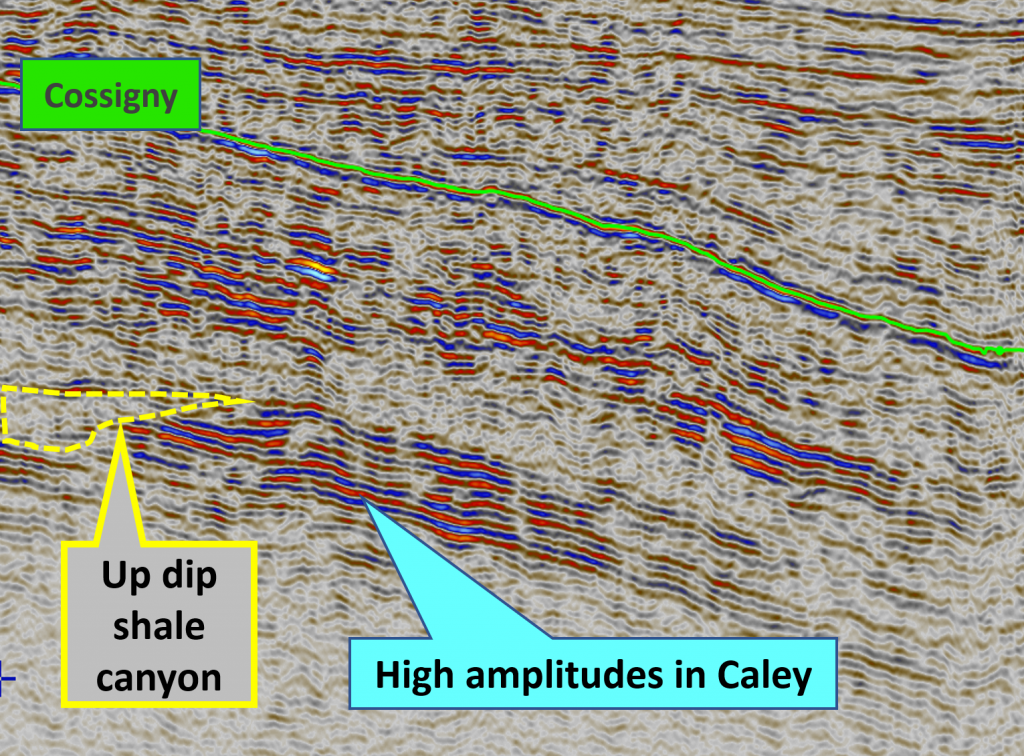 Concept and lead inventories were compiled across gazettal blocks. The example shown here shows high amplitudes in the Caley which dim up dip, likely by a shale filled canyon.
Concept and lead inventories were compiled across gazettal blocks. In this example, a Legendre level four-way dip closure was investigated with a potential stacked pay with a smaller fault bounded closure at JP1 level.
Offshore Peru Conditioned Well Data Package and Well Atlas
Offshore Peru has a proven prolific oil play and prospectivity within multiple basins containing both thick reservoir seal pairs and a rich array of structural traps, yet remains dramatically under-explored. Hydrocarbon fields both on and offshore along the north coast in the Tumbes-Progreso and Talara extensional basins currently contribute over 1.8 billion barrels of domestic oil production.  To the south of these producing fields lie 5 additional offshore basins where little exploration activity has been undertaken to date.
Read More...
Searcher, with Discover Geoscience, has prepared a conditioned well data package for 40 exploration/appraisal wells across five basins to complement the seismic database, and a well atlas for 25 wells, with the following deliverables:
Conditioned well data package:

Translated basic data page for each well
Enhanced well reports including translation of key data into English
Summary of objectives and results
Conditioned digital well logs, including digitised well logs
Supporting digital well information (e.g. deviations, checkshots, formation tops)

Well atlas:

Analysis of petroleum system elements
Quick look structural mapping for wells
Reasons for success/failure
To discover more about this or other products, contact us today.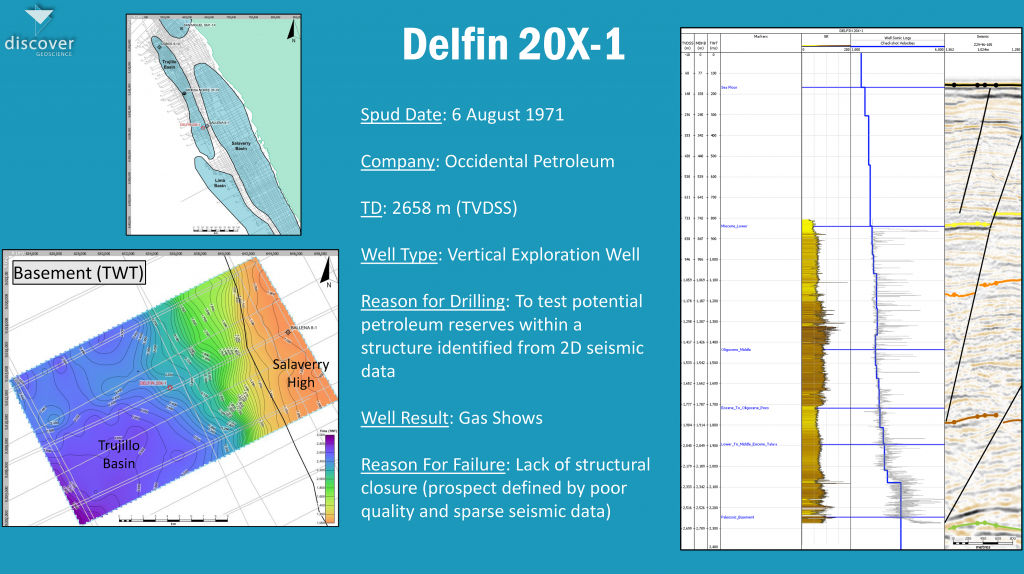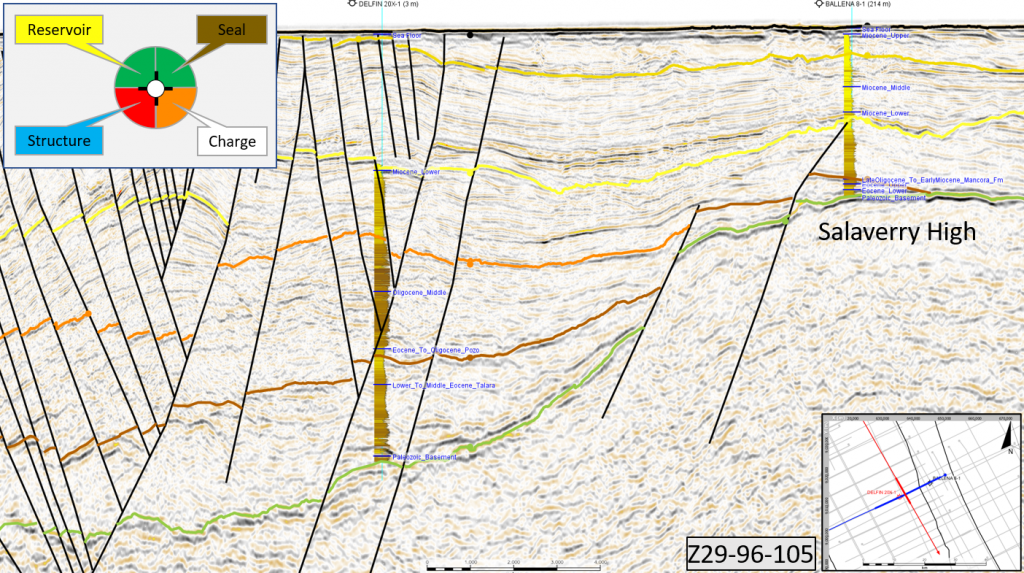 Seismic sections through each well have been examined and interpreted with key horizons picked in order to support the reason for failure analysis.
Gulf of papua prospectivity study
Discover Geoscience is pleased to offer for purchase a multi-client Gulf of Papua Prospectivity Study, offshore Papua New Guinea.
The Gulf of Papua Prospectivity Study was undertaken by Discover Geoscience on behalf of Searcher and consists of five main sections; Tectono-Stratigraphic Framework, TWT and Depth Mapping, Facies and EOD Mapping, Charge Modelling plus Play Concepts & Leads Inventory.
Read More...
The offshore Gulf of Papua has a vast areal extent and at over 187,000km2, is comparable in size to the Australian state of Victoria. It is significantly under explored with only 27 offshore exploration wells drilled, restricted to the Fly River Platform and the nearshore Aure Fold Thrust Belt areas.
The deepwater offshore Gulf has been largely ignored by industry due to paradigms around the extent of oceanic crust, presence of source and reservoir facies. An extensive regional dataset was acquired by Searcher Seismic in the Gulf between 2006 and 2018. The Searcher Database includes 76,361km 2D data, 1,795 km2 3D data, gulf-wide shipborne gravity and magnetics data, transition zone gravity and magnetics, 75 seabed cores, 37 heatflow observation points, five dredge samples, and a full satellite slick database. All of these datasets were made available to Discover to carry out a detailed geological and geophysical review of offshore Gulf of Papua and develop a deep understanding of the hydrocarbon prospectivity of the Gulf of Papua.
Exploratory drilling to date has focussed on the Fly River Platform and the Aure Fold Thrust Belt, with other areas of the gulf, including the Moresby Trough, Eastern Plateau, Offshore Papuan Plateau and the Coral Sea, remaining completely unexplored. The traditional play types targeted by oil and gas companies in the Gulf of Papua to date include Miocene platform carbonates and pinnacle reefs, basement related horst blocks and Pliocene basin floor fans.
Discover carried out regional seismic facies mapping as a tool for development of paleogeography maps and numerous additional play types have been identified away from the drilled nearshore and onshore areas.
Utilizing the Searcher seismic data we were able to image up to 35km depth and map a likely Moho depth horizon. The data also illuminates a distinctive Coral Sea oceanic crustal character which was mapped and compared to the areas of attenuated continental crust. It was found that the actual extent of the true oceanic crust is likely much more restricted than previous publications would suggest, with most of the Gulf and Offshore Papuan Plateau areas being underlain by attenuated continental crust. This has significant implications not only for heat flow modelling but also for the interpretation of the stratigraphy preserved between the basement and the Base Tertiary Unconformity.
Reprocessing of the PPL379 3D seismic survey has resulted in a new deeper interpretation of the basement depth which leads to interpretation of a thick section of Mesozoic fluvio-deltaic to shallow marine sediments sitting below the Base Tertiary Unconformity, known to contain source rocks in the nearshore and onshore areas.
An extensive 1D basin modelling study was conducted across the Gulf of Papua. Burial history models were constructed based on crustal thinning history and sedimentation rates determined from structural, well and seismic data. Nine pseudo well models were thermally calibrated against present day temperature and vitrinite maturity data from six calibration wells. Results of the 1D Basin modelling indicate that Mesozoic source rocks in grabens across the Gulf of Papua began expulsion in the Early Cretaceous and suffered a hiatus during the Late Cretaceous and Tertiary uplift and erosional events, before becoming buried once again to maximum depth at present day. This modelling suggests that there is currently an active charge system throughout the grabens across the Gulf of Papua. This conclusion is supported by the seabed coring, seep and slick data and heatflow survey results.
The Gulf of Papua has been largely ignored by industry to date due to previously entrenched paradigms of thin, cold Tertiary stratigraphy overlying oceanic crust. The results of Searcher Seismic's Geoscience program in the Gulf of Papua all point to a prospective basin with Northwest Shelf of Australia style stratigraphy, present day hydrocarbon charge and multiple play types.
To discover more about this or other products, contact us today.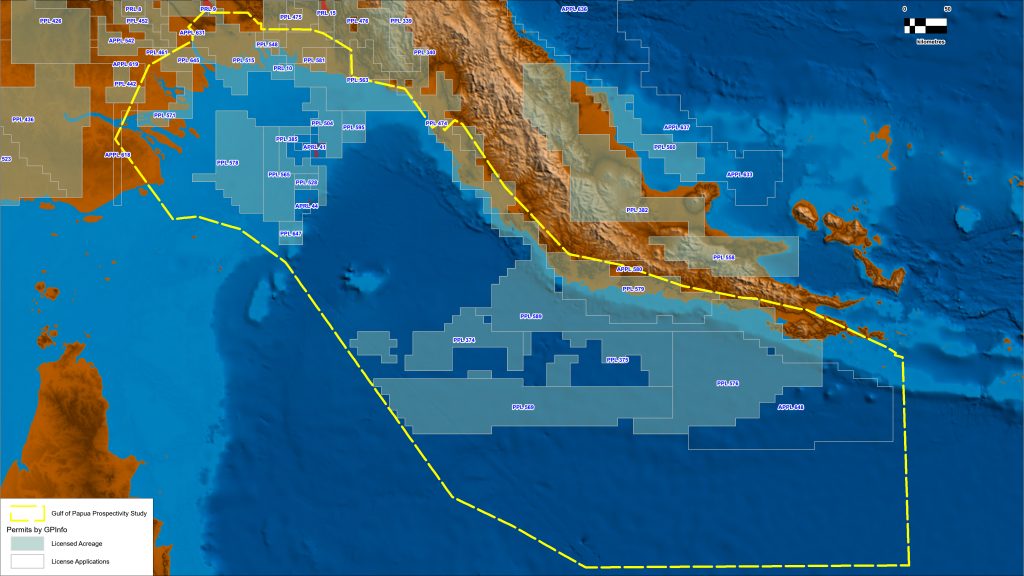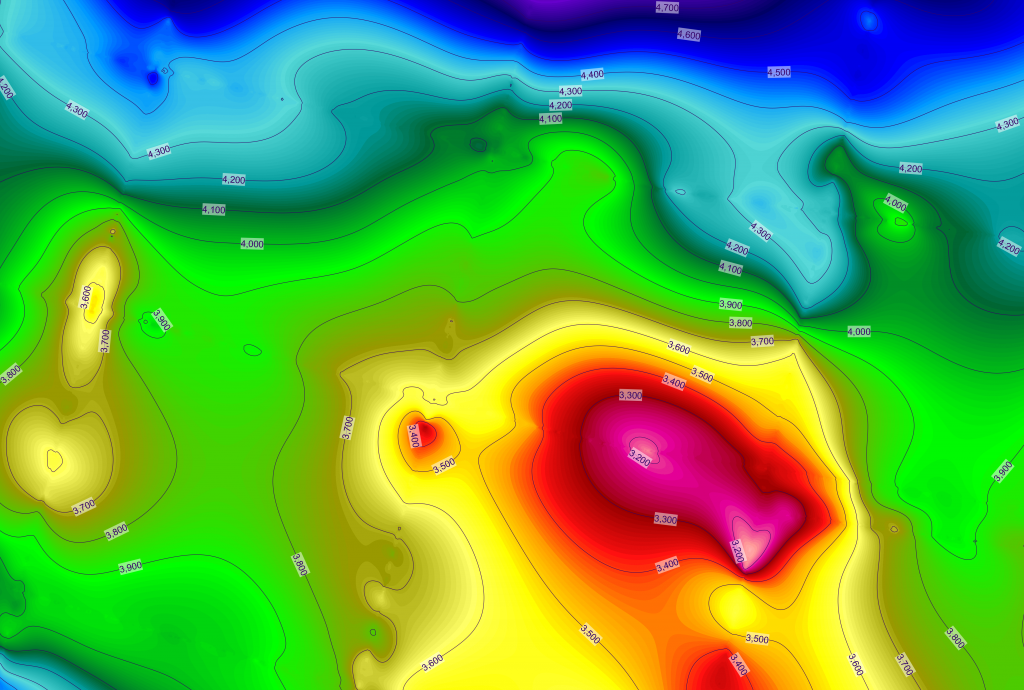 Five key horizons plus seafloor have been interpreted across a regional dataset in the Gulf of Papua. Horizons are provided in TWT and Depth.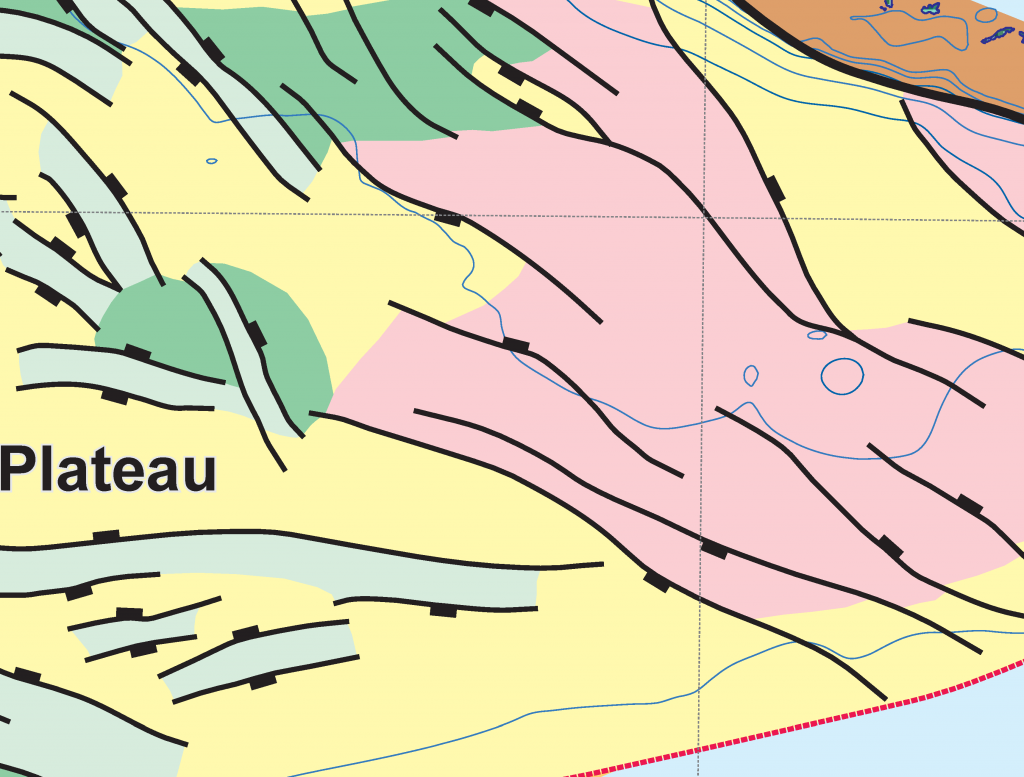 Detailed mapping across the area has led to the development of a Major Tectono-stratigraphic Elements Map, detailing the structural style and dominant stratigraphy across the Offshore Gulf of Papua region.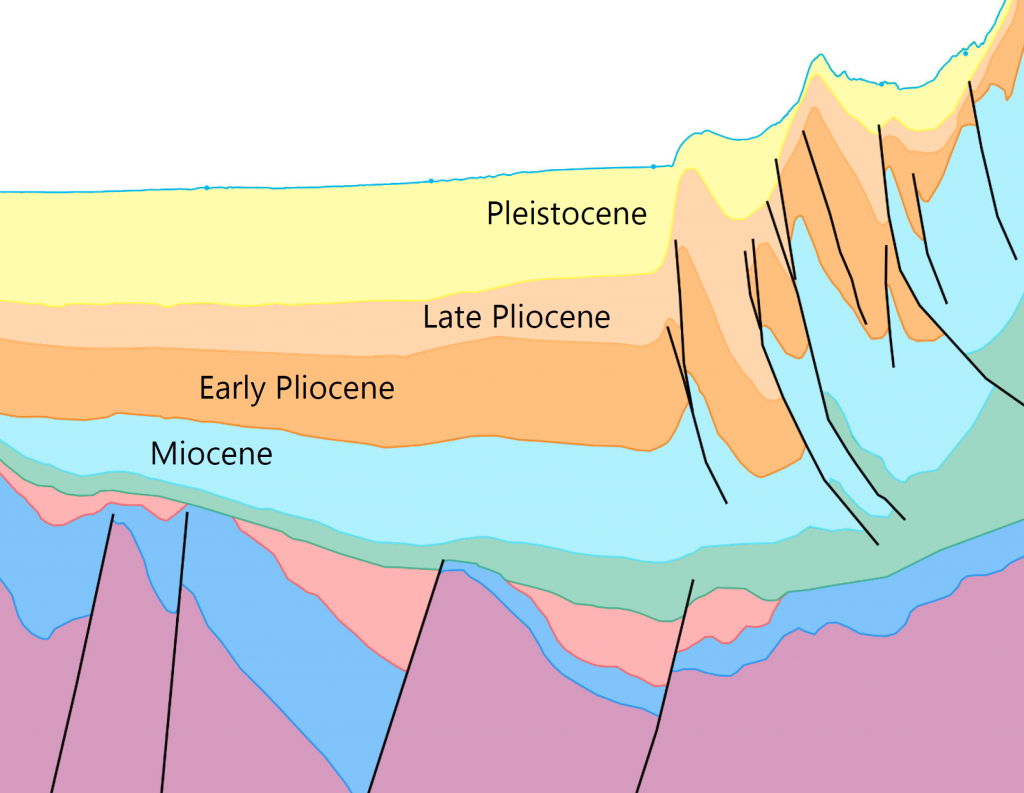 A set of Geoseismic sections have been developed to demonstrate the key tectonostratigraphic elements of the regions in cross section format.
International Geoscience Studies
Gulf of Mexico and Argentina
We have worked closely with Searcher Seismic and have undertaken a review of open file datasets in both the Gulf of Mexico and surrounds and Offshore Argentina. We have provided multiclient reports using basin analysis techniques including:
» A seismic and sequence stratigraphic approach
» Plate Tectonic Reconstructions
» Palaeographic Mapping
» Geochemical Summaries
» Play Mapping
» Migration Pathway Mapping
» Common Risk Segment Mapping
» An atlas of prospects and leads with high graded areas of prospectivity