Asset Evaluations
With a multidisciplinary team, Discover Geoscience is positioned to assist in all asset evaluations for clients' existing acreage or new ventures.
Read More...Read Less
Discover can assist in the full cycle evaluation of assets including geological and geophysical regional play analysis, prospect through to field evaluation, risking and volumetrics and a review of remaining reserves.
Leads and Prospect Portfolios
At Discover Geoscience our team are all highly experienced geoscientists with relevant oil company experience specialising in prospect evaluation and volumetric assessments.
Read More...Read Less
We can create a risked and ranked prospects and leads portfolios in preparation for farm-outs, IPO's or investor presentations.
Peer Reviews
Working as a multidisciplinary team across continents and a vast variety of global projects gives Discover Geoscience an outstanding perspective that may be difficult to match inhouse or when working with a small team.
Read More...Read Less
Allow us to provide insight and feedback to your prospects and drilling plans through a formal peer review process. Particularly during the drilling phase, small investments in reviewing all possibilities can often lead to substantial savings in rig time.
Post Well Analysis
A detailed and systematic post well review is a key foundation for prospectivity analysis, whether entering a new area or looking for fresh ideas in existing acreage.
Read More...Read Less
Discover Geoscience can prepare a systematic and objective post well analysis of each play level, analysing the presence and effectiveness of each of the petroleum system elements.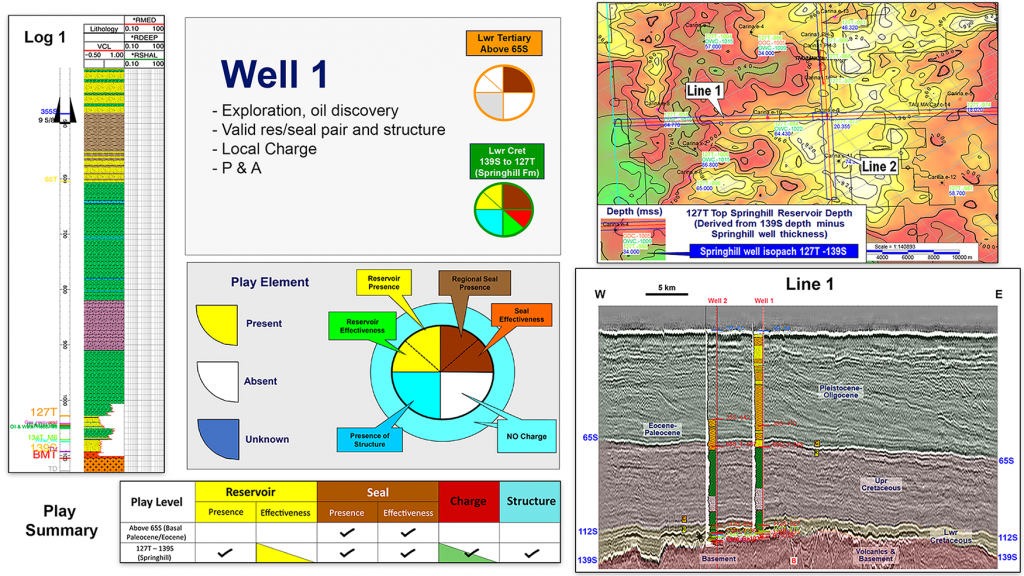 Sequence Stratigraphic Framework Analysis
Creating a sequence stratigraphic framework to interpret and anlayze prospectivity can assist greatly in understanding the expected nature of the depositional environments and spatial understanding of the likely facies distributions.
Read More...Read Less
Discover Geoscience can assist in developing the sequence stratigraphic framework and chronostratigraphy, which can be used to determine the key horizons for seismic interpretation. The sequence stratigraphic framework can also assist with prospect risking by improving the understanding of the relative eustacy and source input of each play level.
Seismic Facies Mapping
Seismic facies mapping can be used for detailed mapping of facies at each play level.
Read More...Read Less
As a complementary next step to a standard seismic interpretation, mapping facies can assist in the development of detailed depositional environment and can also be used as a lithological predictor from regional to prospect scale.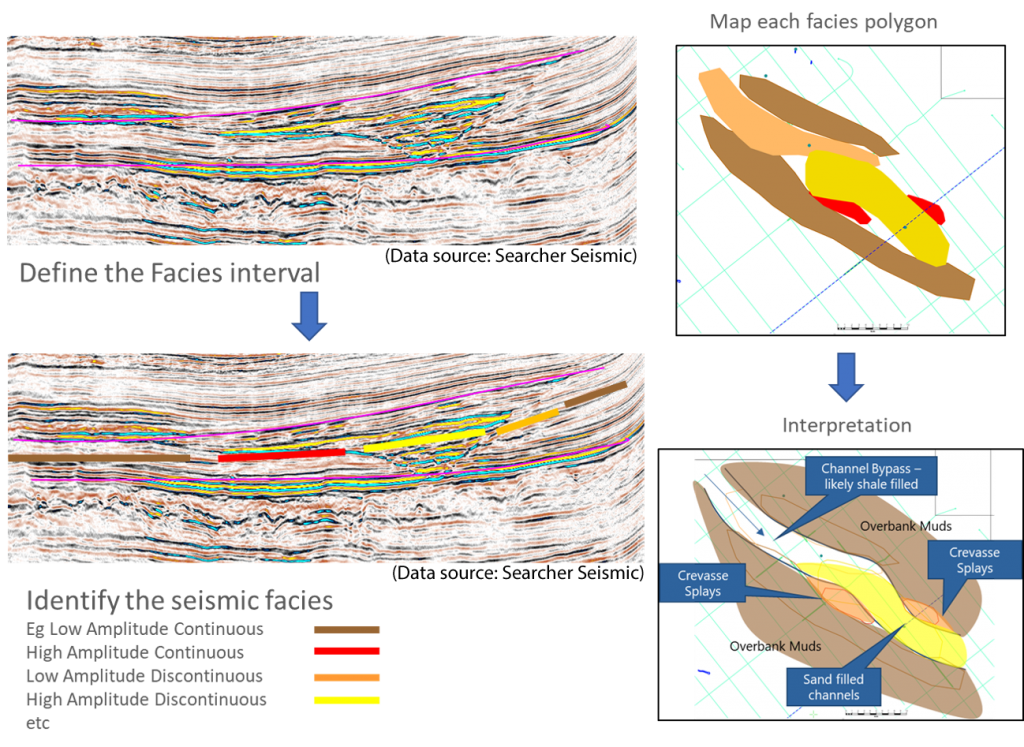 Play and Risk Mappping
Play and risk mapping are fast and effective ways of focusing in on the most prospective blocks/areas.
Read More...Read Less
Discover Geoscience has vast experience in play mapping and common risk segment mapping and can provide this as a service to clients to assist in decision making regarding bidding rounds, new ventures assessments or regional portfolio management.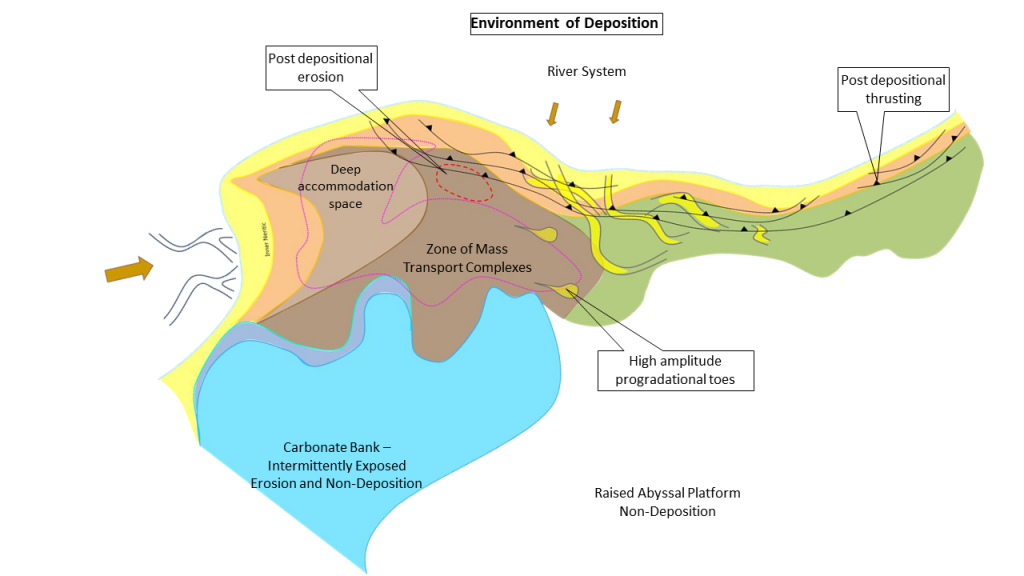 Well Planning
The staff at Discover Geoscience have a wealth of operational experience from around the globe, and collectively have planned and executed the drilling of a vast number of wells from deepwater wildcat exploration to HPHT field developments.
Read More...Read Less
Our experienced geoscience team can assist with all aspects of well planning from Basis of Well Design, Formation Evaluation, Lithological and Formation Prediction, Shallow Hazards Analysis, Well Testing and VSP Design.
Competent Persons Reviews
For IPO or private investment, talk to us today about performing a Competent Persons Review of your existing acreage.
Seismic Interpretation and Mapping
With a highly skilled and experienced team, Discover Geoscience is well positioned to undertake interpretation of 2D and 3D seismic data from regional to in field development scale.
Read More...Read Less
The team has extensive experience in seismic interpretation in both clastic and carbonate settings on land and the marine environment.
Integration of Gravity & Magnetic, Well and Seismic Data for Basin Studies
Integration of multi-disciplinary data is proven to be a great technique for basins evaluation.
Read More...Read Less
Discover Geoscience has broad experience in the integration of gravity, magnetic, well and seismic data for basin study, play analysis and prospect generation and evaluation.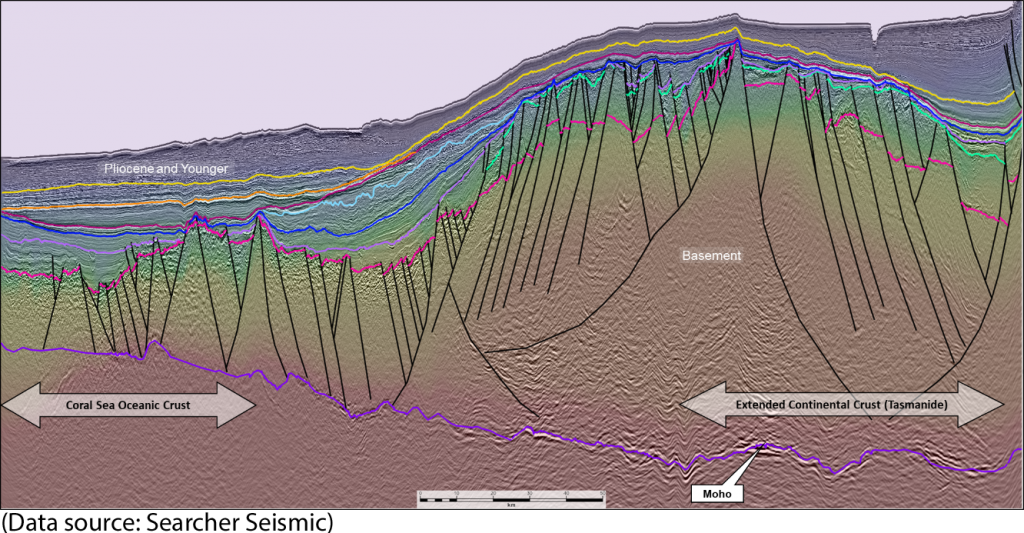 Tectonostratigraphy Framework Study
With a multi-disciplinary team, Discover Geoscience is in a unique position to assist integrating tectonic settings with stratigraphic framework to establish and assess the exploration potential within frontier and mature sedimentary basin settings.
Play Fairway Mapping
Discover Geoscience can provide technical excellence to clients to assess prospectivity of large areas by mapping play fairways.
Read More...Read Less
This work allows the explorationist to high-grade the most prospective area in a fast and efficient manner.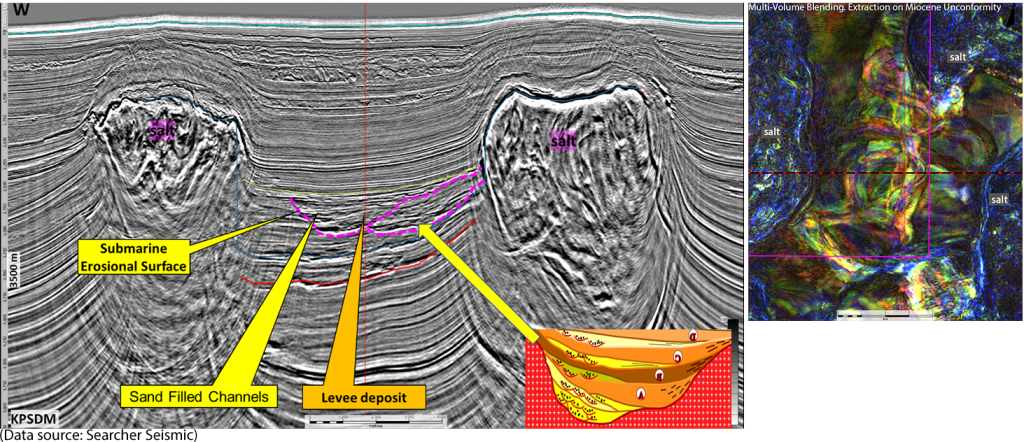 Faults & Fractures Mapping, Ranking and Characterization
Interpretation and mapping of faults from regional scale to field scale can assist with analysis of trapping mechanisms, migration pathway, prospectivity and field development.
Read More...Read Less
At Discover Geoscience we are well positioned to undertake comprehensive fault ranking and classification study i.e. fault throw, fault sealing and fault juxtapositioning assessment.
Migration Pathway Studies
We can carry out a comprehensive migration pathway study.
Read More...Read Less
This work enhances the geoscientists' understanding of hydrocarbon generation, vertical and lateral migration and sealing capacity at both basin and prospect scales.
Depth Conversion and Uncertainty Analysis
At Discover Geoscience we can assist with depth conversion projects from regional scale through to field development planning.
Read More...Read Less
The team can provide multiple depth conversion (including geostatistical) scenarios and quantify risk with detailed uncertainty analysis.
Seismic Attributes Analysis
Our highly experienced geophysicists can assist you with comprehensive geometrical and quantitative seismic attribute analysis.
Read More...Read Less
Discover can prepare sets of useful attributes upon objective of the studies. Our geometrical attributes can help with fault interpretation, well planning, field development and understanding of trapping mechanism. Our quantitative attributes, in particular the Multi-Volume Blending technique can help reveal depositional settings and sedimentary environments.
Well Tie Analysis
We can assist with all aspects of well tie analysis from the offshore area where checkshot and VSP data are of reasonable quality to the onshore region with complex datum and velocity issues.
Quantitative Interpretation
At Discover Geoscience our globally recognised geoscience team can assist you with comprehensive Quantitative Interpretation of seismic data including Rock physics, AVO, DHI and Inversion studies.
Read More...Read Less
The aim is to utilise seismic and well data for lithology and fluid prediction from basin to field scale. The QI study will help minimise uncertainty associated with a leads and prospect portfolio of opportunities.
Reservoir Delineation and Characterisation
Discover Geoscience is well placed to assist in all aspects of reservoir delineation and characterisation.
Read More...Read Less
With the integration of geology, well and seismic data we can provide a full cycle evaluation including the reservoir presence and efficiency assessment from prospect to field development scale, enhanced hydrocarbon recovery and 4D monitoring.
Seismic Data Preconditioning and QC
Discover geoscience can assist in QC and assessment of seismic data at various stages of pre and post processing.
Read More...Read Less
The QC steps ensures that data is properly processed for structural, stratigraphical and quantitative interpretation. Our team of highly skilled geophysicists can precondition seismic gathers for AVO and velocity analysis.